How ShipWorks Helps 1st Phorm Ship Ecommerce Orders Same-Day
1st Phorm, a health supplement company based out of Springfield, MO, has become a trusted brand in its industry because of its dedication to quality.
When founders, Andy and Chris, realized that they wanted a protein shake on the market that focused on being the best, they branched off on their own to start 1st Phorm. Their dream: only the highest quality ingredients for their products and an error-free and outstanding customer experience. And this is something that their brand stands by to this day. Not only do they offer a 110% Guarantee, but they include a handwritten note with every order.
Since launching in 2008, they have grown to offer a complete line of protein powders, pre- and post-workout supplements — and among their most popular products — a superfood supplement powder, and daily packs of multi-vitamins all engineered by Ph.D. chemists.
But with success came increased order volume, and without a dedicated shipping solution, 1st Phorm knew they wouldn't be able to meet demand. This inspired the need to look for options to optimize fulfillment.
The Challenge:
Initially, the warehouse staff manually processed all online orders. Customer information had to be pulled from their built-in Magento cart, and then copied and pasted into the preferred carrier website — one at a time. Within a couple of years, 1st Phorm knew they needed a solution that would make shipping more efficient so that they could operate quickly, without sacrificing their attention to detail.
When 1st Phorm started looking for shipping software in 2011, there weren't a lot of options in the industry that could provide a reliable solution for high-volume ecommerce merchants. Having an on-premise solution was of importance. Technology at the time, coupled with their volume of orders, made speed a critical element of optimizing their fulfillment process.
For Warehouse Manager, Brian Whiting, and his team printing labels quickly means being able to deliver their promise of same-day shipping.
"We do things a lot differently than other companies. We ship everything the same day. So, every order that comes in up until 2 pm goes out that day. Efficiency is paramount for us, because if somebody orders at 1:30, I need to get their order on the truck that comes at 5 pm. I have to be pretty efficient with getting those labels out of the system. The biggest thing that can negatively affect us is speed," said Whiting.
The Solution:
Constant growth was also a determining factor for 1st Phorm as they were looking for a shipping solution that could not only handle the order volume well but also scale with them as they grew.
With an estimated 50% increase in order volume over the next five months, 1st Phorm is always striving for speed and reliability.
As a desktop solution, ShipWorks gave them the added security of troubleshooting any issues on-site. This meant not having to wait in a support queue for assistance, and it meant the ability to process upward of 80,000 orders per month. With their integration to ShipWorks, orders are now seamlessly imported from their Shopify and Magento stores and prepped for fulfillment within seconds.
Shipping via multiple carriers in one easy-to-use application was another benefit 1st Phorm saw in ShipWorks. While USPS is often regarded as the most approachable carrier for ecommerce merchants, 1st Phorm has learned that UPS offers the best service for its bigger and heavier orders. With ShipWorks, they have been able to save up to 73% off UPS 2nd Day Air rates.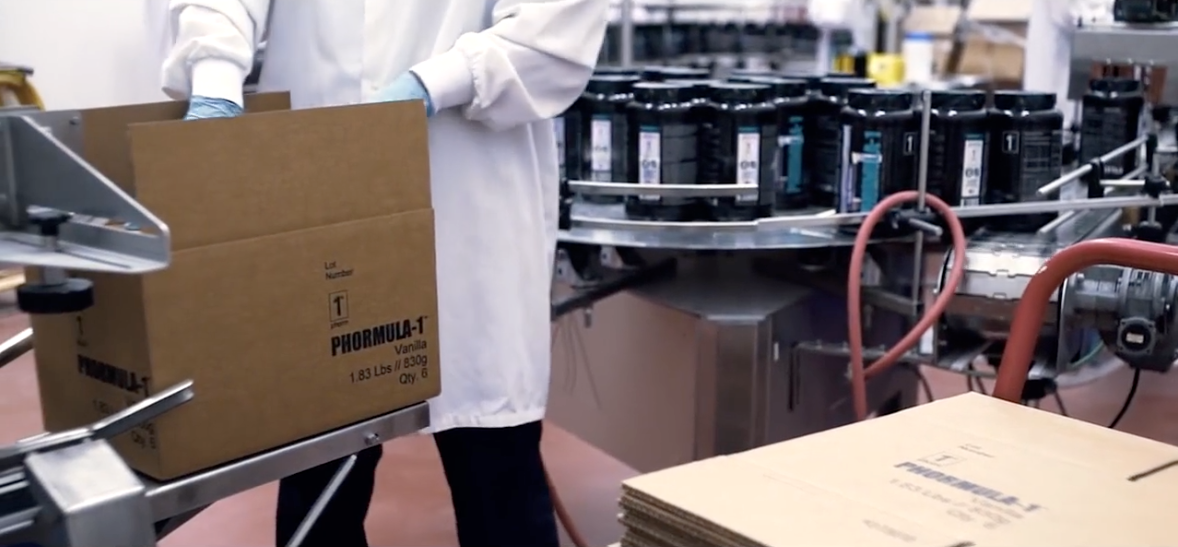 The Process:
The combination of speed, reliability, connectivity, and cost savings made ShipWorks the obvious next step for 1st Phorm. But the software's unique features, ability to build automations, and helpful support have been a huge value add.
Having the ability to set up filters and organize imported orders into designated folders, batch shipments, and pull customer info instantly has been a game-changer for 1st Phorm's fulfillment team.
"It has automated everything for us. We can break down our shipments, and filter orders by any factor that we want to — whether it's products ordered, cost, or where it's shipping to," said Whiting.
The Result:
ShipWorks has allowed 1st Phorm the ability to evolve order fulfillment from a time-consuming, manual process to one that imports, filters, and prints batches of shipping labels in minutes. This ultimately has freed time and money to focus on the overall customer experience — from ensuring same-day shipping to including personalized touches.
"You can buy a jug of protein anywhere. But there's a whole other experience that comes along with buying from 1st Phorm. Part of that is the handwritten thank you note that we put on every order. So us having the ability to do that is huge," said Whiting.
In the near future, 1st Phorm is looking to convert to the ShipWorks Hub cloud system, which is a hybrid solution that enables users to schedule real-time software updates and access a number of other ShipWorks features remotely.
1st Phorm's passion for nutrition and health knowledge has marked them as one of the leaders in the health supplement industry. But, it's their intense drive to give each customer the best service possible that has been at the forefront of their mission.
---
If you're looking for a high-performance shipping software solution that can help your team fulfill orders faster and with fewer errors, we invite you to download ShipWorks free for 30-days.